Pixel Love
Talk

0
322pages on
this wiki

Pixel Love is a category on the Nitrome blog. It aims to feature one game created by developers outside of Nitrome every Monday. Games are also embedded on an area of the Nitrome.com site that is isolated from Nitrome's other games.
The first Pixel Love post was released on Monday May 14, 2012, featuring Andrew Morrish's Super Puzzle Platformer.
Suggestions
Nitrome accepts suggestions from their fans of games to feature on Pixel Love[1] , provided that they satisfy the following requirements:
The game's artwork is pixel-based and not vector.
The game is developed using Flash.
The game is free to play online.
Five is currently the first and only Pixel Love game recommended to Nitrome by a Facebook user.[2]
Missed Mondays
Some Pixel Love Mondays are missed, resulting in no Pixel Love games featured that week. This often occurs during holidays, or when another occasion to do with a Nitrome related event has happened recently.
Dec 24 - 31, 2012: There was a gap between Space Odyssey and Planet 161's feature as Nitrome took a break for the winter holidays.[3][4]
May 13, 2013: Due to the positive reception of Icebreaker: A Viking Voyage, Nitrome skipped the week after featuring Aqua Boy and featured This Is Not A Minimalist Game the subsequent week.[5]
July 15, 2013: After the sudden takedown of accounts on Nitrome.com, there was no Pixel Love game featured.
December 9, 2013: Issues with the blog prevent Nitrome from creating a Monday post.
Promotion on site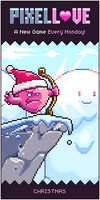 When a game is featured on the blog, an advertisement is placed in the "Nitrome" advertisements section of Nitrome.com. All Pixel Love games feature a screenshot from the game in between the "Pixel Love" heading, and the game name at the bottom of the image. Both headings have jagged line borders closing in on the game screenshot. Clicking on this advert leads to the playable version of the game embedded on Nitrome.com.
Sometimes, games featured in previous weeks will also be seen in the Nitrome advertisements section, even if another game has been featured in the current week.
Christmas advertisement
A Pixel Love "Christmas" advertisement can be found on Nitrome.com in some cases. This advertisement has the text "Christmas" where the name of a Pixel Love game is typically. The image features the personified heart from the Pixel Love banner wearing a Santa hat atop an icy cliff. Snowy mountains with faces can be seen in the scenery. Clicking on this advertisement leads to the url 'http://www.nitrome.com/games/pixellove_redirect.php'.
This promotional picture was featured in place of the regular Pixel Love advertisements displaying a specific game. As Nitrome went on break for the winter holidays, Pixel Love games were featured automatically on a Monday. The URL provided on the Christmas advertisement would always redirect to the latest featured Pixel Love game.
References