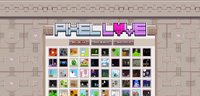 Pixellovegames.com is a website Nitrome launched on July 25, 2014[1] as a collective hub for all of the Pixel Love features.
Components
List
When the domain is first visited without any game specified, the list of Pixel Love games appears under the title "Pixel Love". This list is displayed against the background originally used when Pixel Love games were hosted on the Nitrome.com domain. The list of games can be sorted in three ways:
Most Recent - Games are sorted by the time they were featured, from most recently featured to least recently featured.
Most Hearted - Games are sorted by the number of hearts the game has received, from greatest to least.
Most Played - Games are sorted by the number of times the URL was visited, from most to least.
The exact number of hearts and plays assigned to a game can be viewed in a tooltip by hovering over the game's icon.
Game
When a game is selected, the jagged lined "doors" at the top of the page open, and the game loads at the top of the page against a black background. Advertisements are shown on either side of the game, but may be placed at the top or bottom for wider ones that span almost the whole width of the screen. The game's title is displayed at the top of the game module, in a similar colour to the background.
A smaller module exists below the game, with six buttons arranged in a horizontal line and split into a group of four and two. The first four buttons from the left allow sharing via Facebook, Twitter, Google+ and URL. Following them, a heart icon configures hearting and unhearting a Pixel Love game, where a filled in pink heart indicates that the game has been "hearted". A light bulb icon toggles the fade options to dim the entire site, including advertisements.
Footnotes
A module is attached to the bottom of the list of Pixel Love games with a grey background. The left side provides a brief description of the site's purpose. The right side includes a Twitter module displaying tweets with the hashtag "#pixellove".
Separated by a dotted line, a list of links allows developers to upload their game for Nitrome to review[1], and for visitors to suggest a game to be featured. There is also a link for reporting a broken game and specifying which one is not working properly. Links are also provided for Nitrome's social networking accounts, an opportunity to subscribe to their newsletter and their policies and Terms of Use.
References
External links
Ad blocker interference detected!
Wikia is a free-to-use site that makes money from advertising. We have a modified experience for viewers using ad blockers

Wikia is not accessible if you've made further modifications. Remove the custom ad blocker rule(s) and the page will load as expected.