Plunger
  Information
Ability:
Attaches to walls
Game(s):
Planet 161
The plunger is an item in Planet 161. It is first seen in level 4.
Appearance
The plunger has a grey handle shaped like a thin, flat rectangle. The plunger component is dome shaped, with the peak of the dome facing the handle. This part is coloured brown. The item hovers over a blue contraption.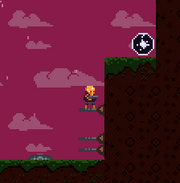 Game information
When Hinds collects the plunger, he can fire multiple plungers with the gun he holds. These plungers attach to any block or area of the wall, unless there are white blocks in that wall. Any plungers shot out will stay attached to the wall for a duration of about three seconds, of which they fade and drop off, disappearing from the screen altogether.
Using the plunger item, Hinds can stand on the plungers he shoots until they fade. He can also jump through a plunger from below. With the plunger, Hinds can climb up the side of walls that he cannot reach by jumping alone.
Ad blocker interference detected!
Wikia is a free-to-use site that makes money from advertising. We have a modified experience for viewers using ad blockers

Wikia is not accessible if you've made further modifications. Remove the custom ad blocker rule(s) and the page will load as expected.